Regular price
Sale price
$19.50 AUD
Unit price
per
15% OFF
Sold out
All-Natural Deodorant Paste (Terra) is a mineral-enriched, bicarb-free deodorant – that actually works! even on the most sensitive skin.
Our All-Natural Deodorant Paste contains a unique blend of botanical and natural odour eliminating masters selected to protect and nourish your pits, neutralize bacteria and emanate a refreshing aroma, keeping you smelling fresh ALL DAY long. Its 100% natural ingredients create an invisible, absorbent, pH-balanced shield on your underarms while also neutralizing odor. And, it's perfect for use on sensitive skin.  
Terra contains a refreshing and earthy blend of pure essential oils, botanical extracts, and skin-loving Organic Shea Butter, Organic Coconut Oil, Olive Oil Extract, and vitamin E, together they create a rich and nourishing protective barrier for the delicate underarm skin. With a gender-neutral scent, it is perfect for men, women, and teenagers.
TUB SIZE 75g (lasts between 4-6 months) Includes spatula for easy application. Vegan Friendly :)
Hero Ingredients

*Activated Charcoal: we formulated our deodorant with Medicinal-Grade Activated Coconut Charcoal, it is AMAZING at absorbing moisture, odour, and toxins! activated charcoal acts like a magnet to draw out toxins from your pores, while also fighting odor-causing bacteria, this helps most people that are transitioning from an antiperspirant to a natural deodorant seamlessly. No detox period necessary!

*Magnesium Hydroxide: It is also known as 'milk of magnesia', a mineral that we all need our diet, and none of us get enough of it, so a daily dose of Magnesium therapy is a plus, besides getting a mineral boost daily, magnesium is amazing at neutralizing odour too.

*Zinc Oxide (non-nano): Zinc oxide is often used as a sunscreen, but is also an antioxidant that is able to soothe, protect and help heal the skin. It also contains anti-bacterial and anti-fungal properties. It neutralizes odour by converting short fatty acids that are responsible for underarm odour, by converting them into odorless
zinc salts.
Ingredients

*Butyrospermum Parkii (Shea) Butter, *Manihot Esculenta (Tapioca) Root Starch, Magnesium Hydroxide, *Cocos Nucifera (Coconut) Oil, Kaolin Clay, Ethylhexyl Olivate, Triethyl Citrate, Euphorbia Cerifera Cera (Candelilla) Wax, Zinc Oxide (non-nano), Olea Europaea (Olive) Leaf Extract, Tocopherol (Vitamin E), Activated Charcoal Powder, Lemon, Cypress, Gingergrass, Petitgrain, Patchouli, Oakmoss Absolute, Sage Essential Oils. That's it, nothing else.

* Organic Ingredients
Smells like

A unisex refreshing and earthy aroma that is loved by both men and women
How to use

Apply a small pea-sized amount with dry finger tips and rub into clean dry armpits. Great for sensitive skin, even right after shaving.
Shipping

We offer FREE standard Australian delivery when you spend $75 or more in one transaction. Standard Australian delivery on orders under $75 is a flat rate of $9.95. We also offer Express Shipping for $15.95 - simply select Express Shipping from the drop down menu during checkout.
Share
View full details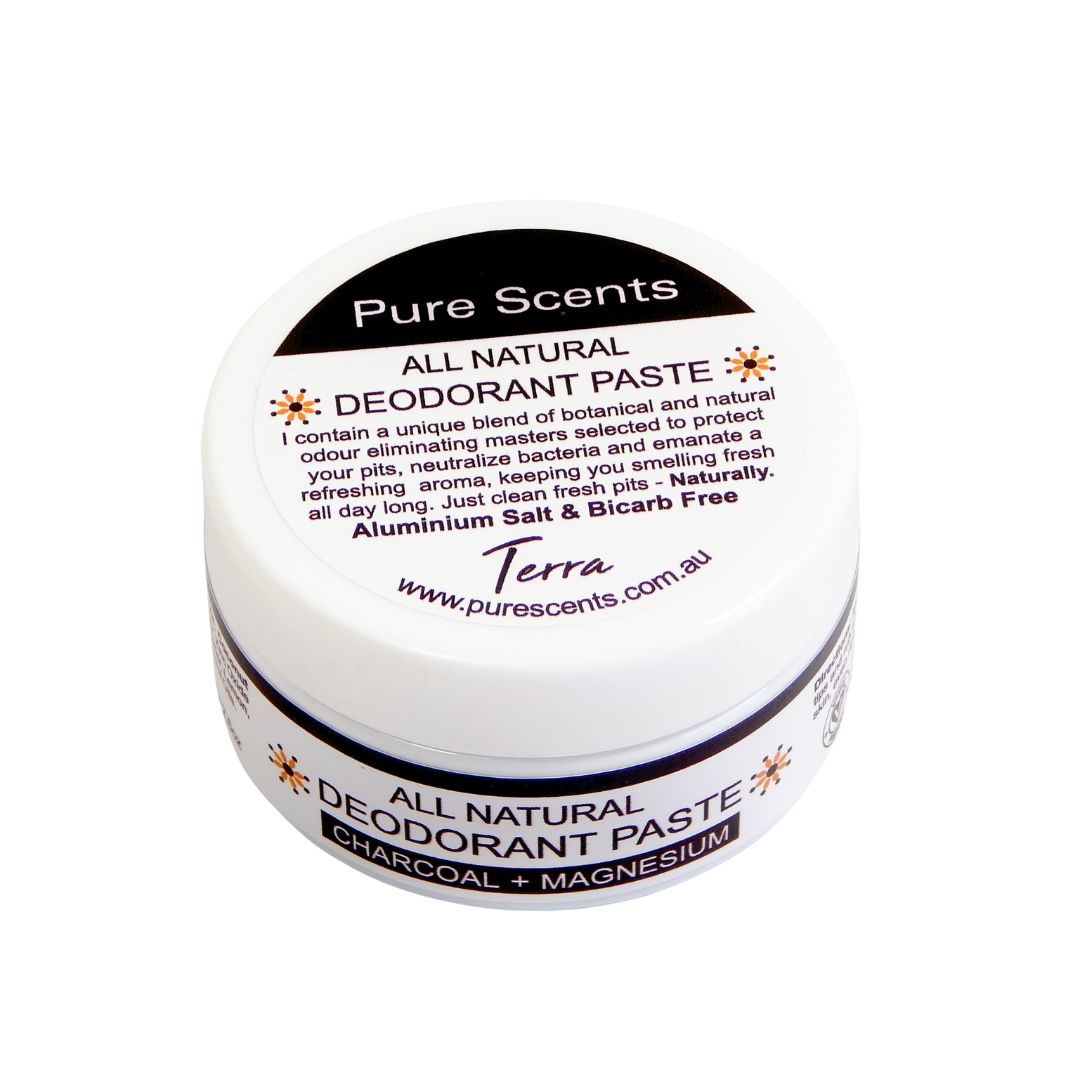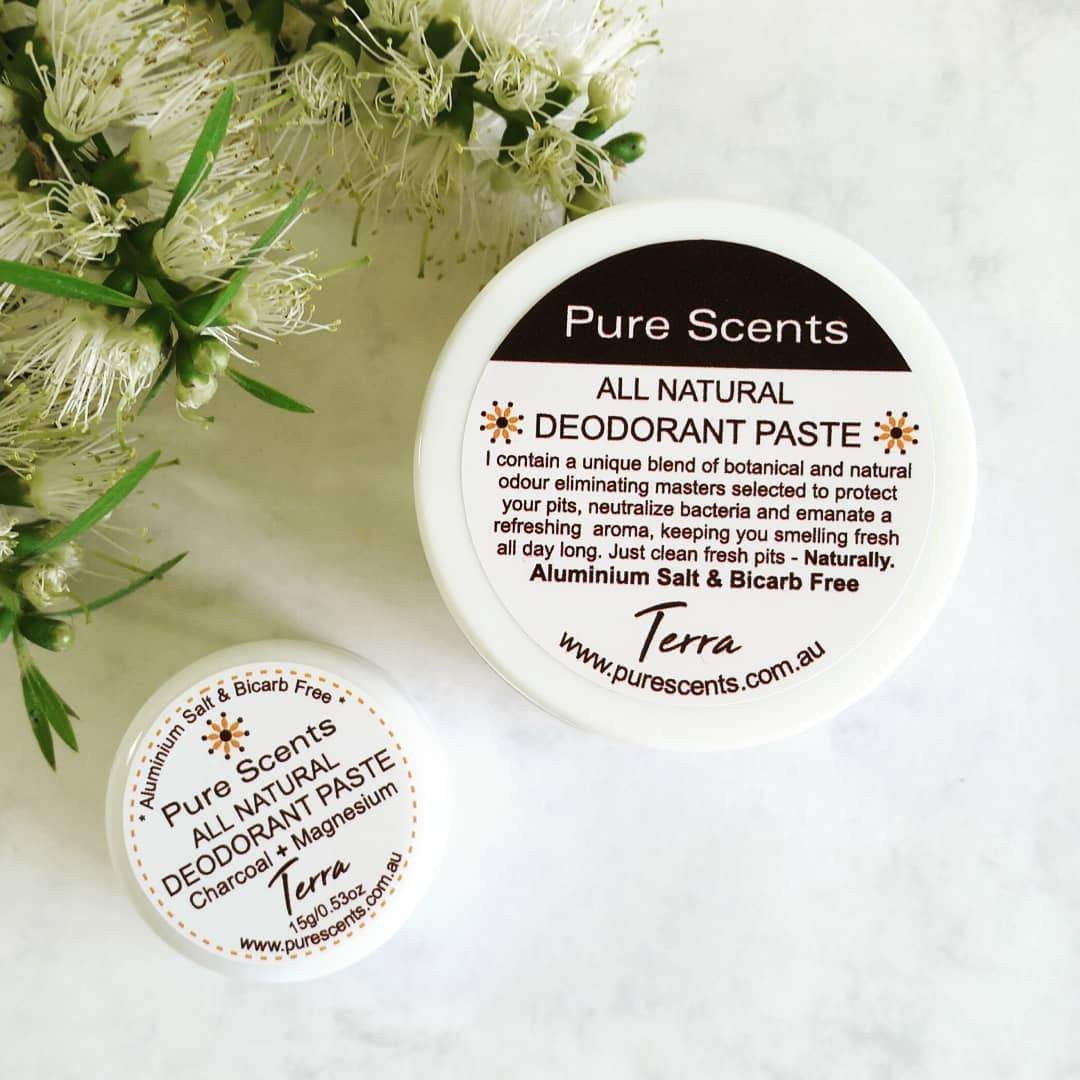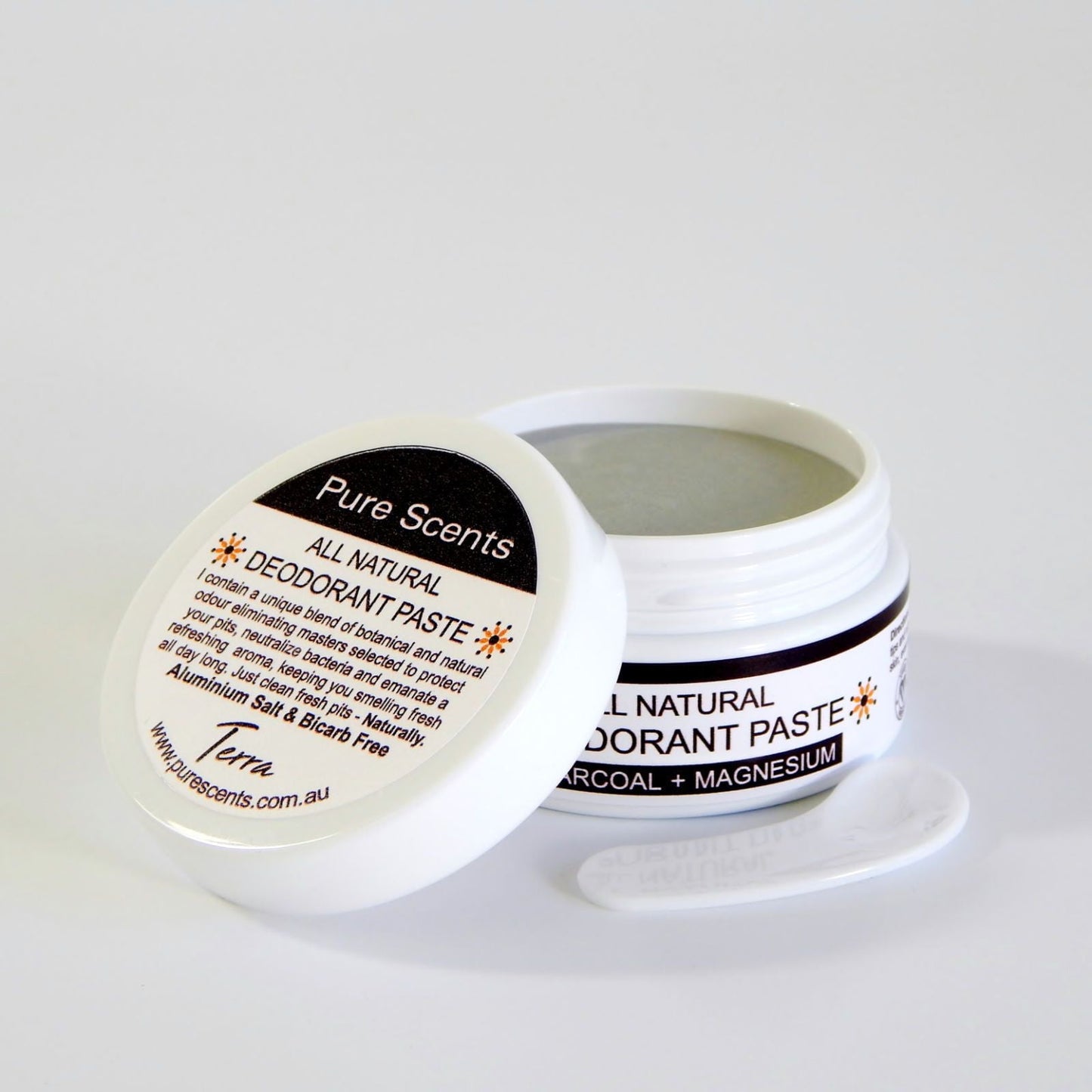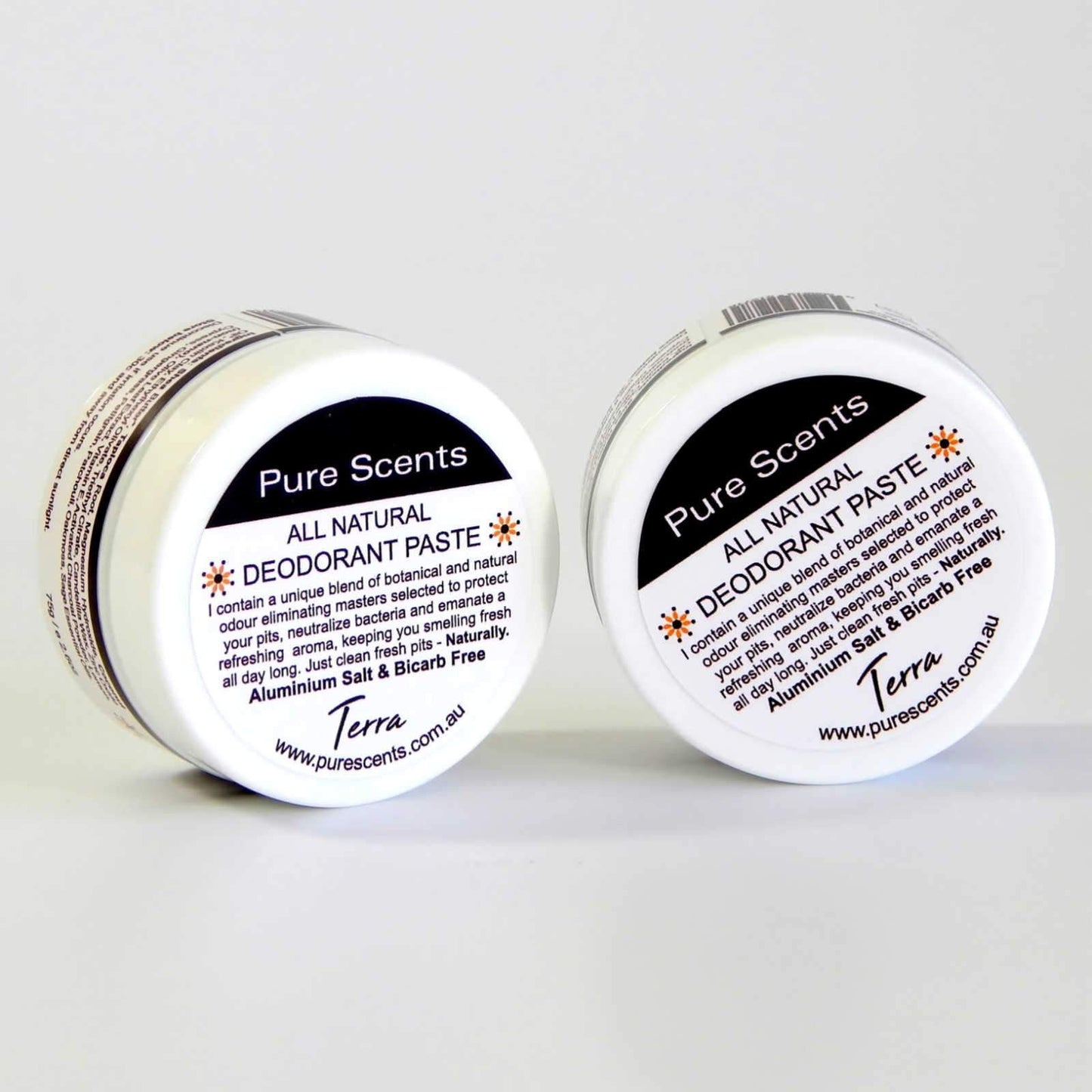 Fabulous deoderant
I have never found a natural product that works as well as well as this one. Its the first time hat I have been able to apply deoderant in the morning and not had to reapply at all during the day. It smells delicious and works so well that I keep a spare tub for fear of running out. I highly recommend this product and all products produced by Pure Scents.
Better than all the rest
Pure Scents is comfortable, lasts all day and is a great burst of magnesium. It doesn't give that sticky underarm feeling that other naturals do. I don't get smelly, even in Cairns and the little tub lasts so long so you don't worry about running out. Every now and then we try a new brand coz it's on a good deal, and it just doesn't compare.
Best natural deodorant
I love this deodorant! I live in the tropics and work in a hot and humid environment. I sweat all day long and never have to worry about smelling bad. I have not found another product that comes even close. Thank you.
Terra deodorant
I am so happy with Terra deodorant. I would highly recommend it to anyone that is looking for an all natural deodorant.
I love it.
Natural deodorant
Best thing I have bought!! Something that really works!! Thank you